Simple Conversion Optimisation
Filed under: Advice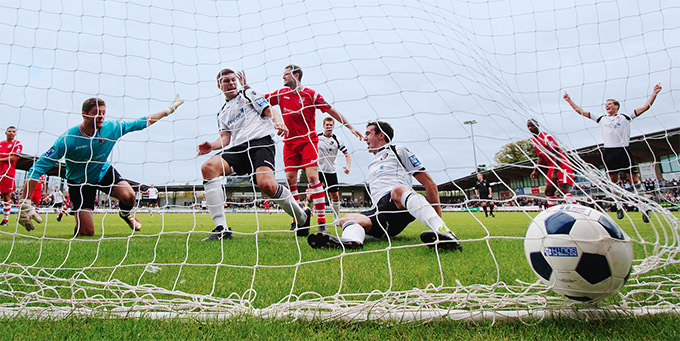 Clients often approach us with the same dilemma: "We love our new website but we're not getting any sales."
 It can sometimes take businesses by surprise when their website just doesn't work for them in the way that they had hoped, despite it looking the part.
 Thankfully, optimising your conversion rates – which basically means turning your site visits into sales or enquiries – can really be quite easy and a lot of it you can do yourself without having to employ anybody else to do it for you.
 We've put together a few key points worth thinking about to significantly improve the success of your site.
Have Fun With A/B Testing
By creating two sites that are identical and making small changes to one of them, you can easily see, after a short amount of time, which site your visitors prefer and which site has the most success. Have a play with your wording, images, headlines and Call-To-Action buttons. All of these small amendments can contribute to big improvements in conversion rates.
Choose a Simple Layout
When a visitor lands on your page, they need to be able to see the information that they require immediately. Is your menu visible? Are your contact details available? Are your products or services easy to locate? Make sure that the relevant information is not being hidden in favour of big graphics and stunning visuals.
Reduce Form Fields
Make it as easy as possible to buy from you and to contact you. Do you really need to know that much about the client? A long form with a lot of fields to fill in is off-putting. You can always have the option to 'Register' as a separate optional form, or if you are offering a service to your client, you can gather more information from them at a later date. When we drastically cut down on our fields earlier this year, the result was immediate and quite staggering!
Make Your Call-To-Action Button Obvious
Don't hide your 'Contact Us' and 'Buy Now' buttons at the bottom of your page amongst a load of text and other images. Your CTA button should stand prominently on your page, in a contrasting colour, and it should definitely look like a button rather than a link. Test a few options in your A/B testing and see what happens!
Think About Ditching the Image Slider
Whilst the carousel at the top of your home page may look very impressive, it might not be getting the attention that you think it is. It stands at the forefront of your website, in the most useful space that you have. If your viewer cannot keep up with reading the text that keeps sliding away, or can't decipher how to go back and look again at the product that they just saw and which has now disappeared, you will have a frustrated client.
A slider can reduce the interactivity between the user and the site and can create Banner Blindness, which is when a viewer bypasses the slider completely.
Remove the distraction and replace with a static offer that will encourage your client to hit that Call-To-Action button!
Stop Using Stock Photos
Stock photography can be very off-putting when your client really wants to see the real deal. Opt to take photos of your actual team, within your own office or workplace. This builds their trust and makes you look far more approachable and real.
Use Relevant Images
Don't use images to fill the gaps. Images should be informative and not used to make your site look pretty. Use your A/B testing to see which images are more appealing to your visitors.
Add a Video
….. but make it a short one! Prospective customers like to see videos of products and services. However, a video should be 2 minutes long or less if you want to really grab your client's attention.
Give a Special Offer Deadline
Present the user with a reason why they should click that Call-To-Action button now! Don't let that prospective client leave the site to come back later, as often they won't. Give them a  deadline:
"Place your order before 2pm for next day delivery."
"Only 2 hours and 25 minutes remaining to qualify for 25% discount."
"Only 2 left in stock."
Provide a Phone Number
So many websites do not provide contact details. By displaying your phone number prominently at the top of your page in big lettering, you automatically appear to be more approachable and the user is reassured that they can contact you if they wish to.
Don't Use Jargon
Visitors to your site are regular people who don't want to be wowed with fancy lingo and complicated sentences. They also don't want to feel excluded by the use of words that they need to look up in a dictionary. Write your copy as though having a conversation with a friend; if you wouldn't say it in normal day-to-day use, don't say it at all!
Add Real Testimonials
It's very obvious when fake testimonials have been used and very often, the real testimonials contain the most useful information for the prospective client. Reading obviously fabricated testimonials breeds mistrust.
Add Badges and Security Seals
If you have been handed an award, display it on your site. Similarly, if your check-out process features a banking security system like Norton, make sure your users know this on the homepage – they will know that they are in safe hands.
Keep Blogging!
If you have a blog, keep it updated. A blog serves as an insight into the business and builds trust between the client and the service you are offering. It should almost serve as your shop door, where the visitor can come in, have a look around, have a chat and feel more informed.  An out of date blog suggests that business is not going well, the doors are closed,  that you don't care too much about your customers and that you don't have very much to say of any importance.
 All of these suggestions are things that you can do yourself.
It's worth noting though that optimising your site is an ongoing process. Once you reach your target conversions, there is no reason to stop tweaking – keep going. See if you can make even more of an improvement. Have fun with it and explore what works best for you and your clients and business.